Your link to the undersea domain.
Our fully submersible ocean data buoy addresses the issues that come from being constantly exposed at the ocean surface, by incorporating vertical mobility in the water column.
The buoy can seamlessly operate underwater, while remaining concealed and protected from the active wave zone. It also has the capability of rising to the ocean surface to exchange sensed data out of the undersea domain.
Smart and autonomous – Our submersible ocean data buoy is designed to host a versatile range of sensors to serve the remote monitoring needs of our customers.

Our solution enables precise control of buoyancy and operation for extended periods without complex maintenance requirements, as no moving parts are exposed to seawater.

Sensor profiling capabilities
The buoy serves as a versatile sensor platform, which can involve a multitude of measurement parameters, such as temperature and salinity at various water depths using a single sensor.

Seamlessly exchange and transfer real-time information with your onshore operations to facilitate swift data interpretation and decision-making.

Diverse spectrum of capabilities
 Embark on a variety of surface level, subsea and undersea missions, while equipped with submersible functionality and vertical sensor profiling to facilitate ocean data capture.
Our system design has seen significant reduction of impact from cyclic wave forces, marine growth and bio-fouling.

Our buoy system results in substantial maintenance cost savings, enabling you to allocate resources more efficiently and focus on pushing the boundaries of your operations.
One buoy, multiple configurations
Our spar buoy design offers great flexibility and easy configuration to meet your monitoring needs.

The perfect tool for your oceanic endeavor!
Two standard diameters of 250mm & 150mm
Modifiable Mission Modules
Sensor/payload module

Antenna
Battery
Buoyancy engine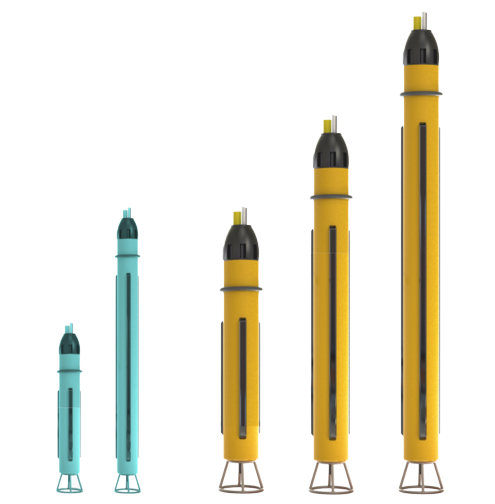 Powering ocean data capture, one buoy at a time.
EMBARK ON SHORTER MISSIONS WITH
Our Lightweight Surface Buoy
You can easily deploy our lightweight buoy to collect data both above or below the surface. We are currently pilot testing it for Aquaculture in Norway. Stay in the loop if you would like to explore similar applications in aquaculture and beyond!
We are always mission-ready.
Ready to test the waters?
Get in touch with us on solutions for your remote ocean monitoring needs.